At 1+1 Ranch we don't do head-to-tail trail rides, yoga, golf, or spa days. We're a working cattle ranch. We give you the opportunity to not play cowboy but to be one.
You will learn to work cattle, ride, rope, brand, drive the herd, and sort cattle. You'll do all of it mounted on a trained quarter horse that's yours for as long as you stay.
At Rowse's 1+1 Ranch we're known for wide open spaces, genuine hospitality, phenomenal horses, and unparalleled riding opportunities.
From early morning 'til quitting time, it's you, your horse and companions, doing ranch work in God's own cattle country
We only take a very limited number of guests each week; you won't get lost in the crowd. You will get the riding holiday you've been looking for.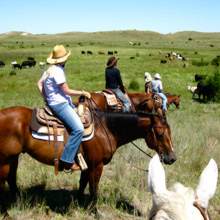 The real cowboy experience
When you stay at Rowse's 1+1 Ranch, you'll live a real ranching life, and experience the simple pleasures of our western American heritage. It's a land where neighbors have lent a helping hand for generations. A place where the front door is always open and fresh coffee's waiting.
Spring, Summer or Fall…Each season is different and special at the 1+1 Ranch. No matter the season you'll get plenty of time in the saddle. Spring brings the excitement of calves and foals being born, working cattle, cattle drives, and brandings. Summer brings long pasture rides checking cattle, cattle drives, working cattle, cowboy socials, team roping, and team penning. October is fall Round-Up, which involves long cattle drives on horseback, team roping, and penning.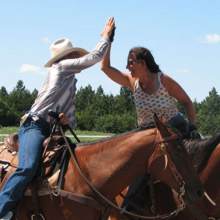 Relax with friends
When the day is over you put up your horse for the night, pull off your dusty boots, take a long, lazy shower, and head to the dining room to fill up on Tammy's delicious down home cooking.
After dinner, you can relax by the camp fire over coffee, a cold beverage, and conversation. It's a sure bet Jerry or Kyle Rowse will start telling stories.
---
An award winning experience
If you're looking for a true ranching vacation come to Rowse's 1 +1 Ranch. If you don't believe us, here's what some other folks have to say: 
Recognized as a Top Cattle Drive ranch by DudeRanch.com (2014)
A Top50 Ranches pick as one of the 50 premier ranch vacations worldwide for their hospitality, authenticity, and their outstanding riding opportunities.
Named two years in a row "Best US Cowboy Experience" 2010 & 2011 by Rustic Vacations.
Approved by the world-renown Dude Ranchers Association as a top ranch vacation destination.
Chosen as "Awesome Equestrian Break" by Western Horse, UK
Featured in Western Horseman (Feb. 2012) as "An Authentic Working Cattle Ranch welcoming guests to live and share their authentic ranching lifestyle."
We encourage you to find out for yourself why Rowse's 1+1 Ranch is so highly regarded. Start planning your Rowse's Working Ranch Vacation now.
Contact us to reserve your spot today.